Our Insured Movers Make Your Moving Day A Success
Whether you are moving across the country or need secure packing for your treasured artwork, we offer comprehensive solutions for a customized, professional moving experience. As insured movers, we have the experience and the expertise to assist you with all aspects of your move. We provide our qualified team with the tools and supplies to deliver quality service with every move.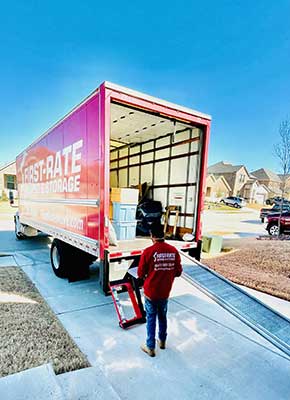 Why Our New Jersey Community Loves Us
Trustworthy Services
At First-Rate Moving & Storage LLC, we employ a handpicked team of reliable movers. With our stellar experience, honest approach and department licenses, you can rest assured that we will scrupulously care for your precious belongings as we pack, move, deliver and unpack them. Our license from the US Department of Transportation ensures your long-distance move across state borders goes ahead without a hitch.
Insured Movers
Moving is demanding, difficult work best left to our trained, insured movers. As a fully insured and bonded moving company, we take complete responsibility for your possessions. With our experienced professionals on your big move, you can rest assured that you will find all items present and correct at your new residence or office.
Modern, Contemporary Equipment
Our goal in delivering customer satisfaction extends beyond moving items from Point A to Point B. From a modern fleet of moving vehicles to quality video surveillance for our storage facilities to high-end packing supplies, we are fully prepared to serve even the most demanding customer.
Flexible, Customized Solutions
We are your one-stop shop for all your moving needs. With a full suite of moving services, we leave it to you to choose dedicated packaging or moving or storage services or opt for our complete package to remain stress-free. Whether you are moving overnight or on the weekend, or during the holidays, we can conduct your move any day of the year and any time of day.
Choose Our Insured Movers for A Worry-Free Experience
Not sure how to get started with your move? Just contact us for a free quote. We handle any New Jersey move – local within the state or moving to or from the area. Call (800) 688-0544 or leave a message via our online contact form.