Trusted and Professional Movers in Woodbridge, NJ
When you are planning to move, turn to First-Rate Moving & Storage LLC for hassle-free, easy moving services from the best movers in Woodbridge. Our highly trained team uses appropriate packing materials and industry-leading techniques to ensure your household possessions, including even the bulkiest, prized items, are safely packed and moved. We store your precious belongings in our state-of-the-art warehouse, where they are monitored 24/7. Take the stress out of moving and storage with our seasoned experts.
We Offer Effective, Flexible Moving Services
When you need professional movers and packers to handle everything in your home or business space, from filing cabinets, desks, glassware, and mirrors to rare artwork, we deliver scientific, secure packaging solutions. With our white-glove philosophy, we treat every item as if it were our irreplaceable antique.
Whether you want overnight storage, packaging-only service, or long-term storage for cross-country or international relocations, we can serve you. At First-Rate, our team is specialized in delivering solutions as per your requirements.
The Best Movers in Woodbridge, New Jersey
We consider your trust in letting us handle your precious belongings seriously. Local, interstate, or long-distance moving – we dedicate the same level of attention and preparation to every move. We carefully assess your moving requirements to come equipped with suitable tools and supplies. Our friendly, courteous, and trained team is ready to cater to all your packing and storage needs. Here are some of the areas we serve.
Woodbridge
Livingston
Toms River
Marlboro
Freehold
New Brunswick
Plainsboro
Summit
Edison
Summerville
And Many more…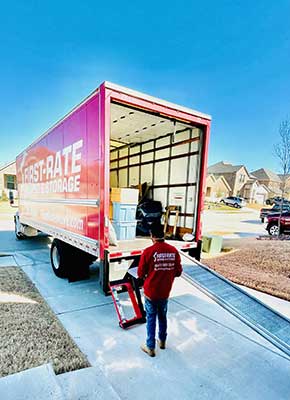 Premium Service at Affordable Rates
As your neighborhood moving and storage company, we strive to provide competitively priced services to our local community. Whether you need out-of-state moving help or packaging services for just your breakables, we provide superior and accessible solutions.
Contact Us
When you need stellar moving services in New Jersey, your search stops at First-Rate Moving & Storage LLC. With significant business coming from referrals and repeat customers, we have our community's seal of approval. Contact our customer care representatives for a free quote. Call (800) 688-0544 or submit an inquiry through our online form.