Long Distance Moving Made Easy
Our handpicked team at First-Rate Moving & Storage LLC puts customer service first to ensure you have a pleasant moving day. Each move is supervised throughout by highly trained professionals who specialize in long-distance moves. As your local moving expert, we consistently aim to exceed your expectations with the exceptional quality of our services and unfailing attention to detail.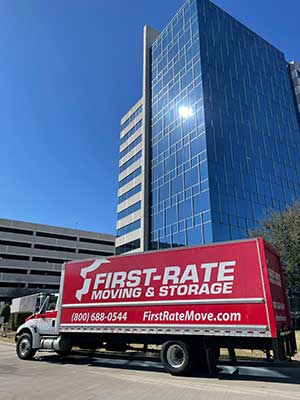 As a full-service long-distance moving company, we handle all the details for you from the beginning to the end, keeping you relaxed. With our experienced team working hard for your move, you can expect your belongings to arrive at their destination safely and exactly when you need them.
What to Expect From Our Long Distance Moving Services?
Free -in-home estimate upon request
Full-service, long-distance moving team
Safe, professional interstate drivers
Careful packing & unpacking of your belongings
Clean, fully stocked moving trucks
Protection of your home from damage
Fully insured professional services
Competitive rates to any U.S. location
Hassle-free moves
Committed movers who stay on till your move is completed
Delicate handling of your belongings
Dedicated customer service from start to finish
Peace of mind from knowing you're in reliable hands
Experience the First-Rate Moving Advantage
We understand there's a lot of uncertainty that comes from a long-distance move. We have designed our services to help you breathe easy and focus on the other details associated with your move. We offer affordable rates for your move and keep all costs upfront with transparent communication. Our company doesn't focus on volume; we take pride in the fact that we deliver our services to you with the highest levels of professionalism.
Contact Us for Your Long Distance Move
When you want to hire the best movers in New Jersey, don't hesitate to get in touch. Our trained, experienced team is eager to help with your long-distance move. You can contact us via our online request form or call (800) 688-0544 today for quick assistance.